Meet the Prosthodontists


Dr. Krikor Derbabian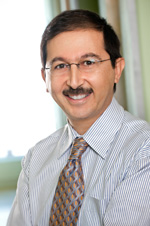 Dr. Krikor Derbabian studied at the University of Southern California where he received his Doctor of Dental Surgery degree (D.D.S.) in 1991. He was elected to the O.K.U. Dental Honorary Society that same year. He went on to receive his Certificate in Prosthodontics at U.S.C., where he was trained in treating complex dental conditions involving dental esthetics, cosmetics and dental implants.
Dr. Derbabian has served as an Associate Professor of Clinical Dentistry at USC School of Dentistry, and has thought several courses in esthetic, cosmetic, restorative and implant dentistry. He has published numerous articles on esthetic, cosmetic, restorative and implant dentistry, he has been a guest editor for the Journal of California Dental Association, and has presented lectures to dentists and specialists at various national and international dental association meetings and study groups.
Dr. Derbabian is president of the Center for Prosthetic Dentistry, a prosthodontic dental practice in Glendale-California, as well as CAD-Dental Laboratory, a high-end Dental Laboratory specializing in cosmetic, esthetic and CAD-CAM dental restorations. In addition to his private practice, Dr. Derbabian is active in the American Dental Association, California Dental Association, Central Coast Dental Society and the American College of Prosthodontists.
With his background and training and together with a committed staff he is prepared to offer you his best efforts at obtaining oral health and optimal esthetics and function with the restorations made for you.